HAPPY APRIL FOOL'S DAY!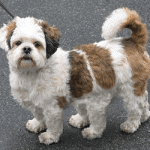 Do you love Charlie's very special extra legs? This silly image is the result of a phone camera in Panoramic mode and the subject not staying still! Why not try this with your own pet, the results are sure to give you a laugh!
Even though cheeky Charlie may not be real, our shelters and volunteer branches across the state have so many special pets awaiting a new forever home so why not consider opening your heart and home to a rescue pet in need of a new family.
And did you know? Until 30th April, all dogs over 7 months of age at the AWL NSW Kemps Creek shelter have their adoption price reduced to $150. Read more here!