The unbelievable story of a courageous kitten's will to live
**WARNING: GRAPHIC IMAGES**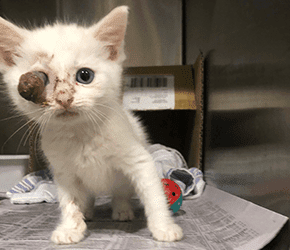 On the 2nd January 2019, a tiny white kitten weighing only 160 grams was rushed to Animal Welfare League NSW veterinary clinic as an injured stray. Upon arrival, the kitten presented clinical signs of proptosis on one eye, limp and lethargic, riddled in fleas and extremely underweight.
The AWL NSW veterinary team estimated this tiny kitten to be at least 4 weeks old on arrival, and where she should been around 400grams, this defenseless kitten was less than half of the weight she should have been. Affectionately named Cherry, this kitten had an unknown outcome and a tough battle ahead of her.
Due to her horrific body condition, the AWL NSW veterinary team were not able to operate immediately on her ruptured eye, which was literally displaced externally from her eye socket. Believed to have been caused by unknown trauma to the area, AWL NSW veterinarians had to make the difficult decision to wait until little Cherry had put on some weight and it was safe to perform the surgery. In the meantime, Cherry was administered antibiotics and pain relief to make sure she was not suffering.
On the 15th January 2019, AWL NSW veterinarian Dr Shay Moodley decided that intervention was now required as little Cherry couldn't wait any longer. The ruptured eye was now becoming unmanageable and surgery was needed as soon as possible.
Dr Moodley had to act quickly, Cherry was still very little and would not be able to withstand being under anesthetic for long. With her team beside her, Dr Moodley performed the surgery to remove her ruptured right eye, and the surgery was a success. Now sporting stitches, little Cherry is still under close veterinary care at our clinic and receives pain relief and antibiotics daily to prevent infection.
Cherry's story is sadly not uncommon here at AWL NSW. Every day, we receive animals into our care who urgently need help and we simply could not continue to help animals like Cherry without receiving donations from kind supporters. If you can, please donate today to help support the work of our veterinary team.