COVID-19 has changed the way we live. But it won't change the way we help.
There is no doubt that COVID-19 has changed the way many of us live. However, at Animal Welfare League NSW our inspectors, vets, foster carers, support staff and volunteers continue to assist animals and those in the community who desperately need our help.
From offering veterinary, fostering and re-homing services, to dealing with cases of animal cruelty and neglect, our amazing team remain enthusiastic, passionate and committed despite the current challenges. Our branch and shelter workers are also a key part of the services we offer. But they too are finding it difficult to navigate the continued effects of the coronavirus. Because even though some NSW Health restrictions were lifted recently, our shelters still need to remain closed to ensure the safety of the public and our people.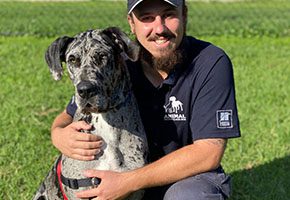 Sam March, AWL NSW Shelter Manager
"COVID-19 has affected our shelters in a variety of ways. On the positive side, it has been a blessing in disguise for many of our animals with the adoption rates at our shelters increasing! Whether it's due to an elderly person needing companionship, or a family who are embracing a different version of togetherness, many animals that have been in our care for long periods have now gone to new, loving homes. These people understand that pet ownership is a long-term commitment and have embraced the positive energy an animal can bring to their lives.

However, COVID-19 has unfortunately also taken its toll on our community. Recently, a local gentleman had to close his business and no longer has the income to look after his two bullmastiffs, Butter and Scotch. We have taken these two beautiful animals into our care and we're currently undertaking medical checks and behavioural assessments. If all goes to plan, they will soon be ready to be adopted by another family. Plus, our new 'virtual-friendly' adoption process also means that everyone remains safe, and we can continue to find loving 'furever' homes for all of our shelter pets".  – Sam March.

Helen Powderly, AWL NSW Branch Liaison Officer
"Despite the impacts of the bushfires and COVID-19 over the last six months, our branches continue to assist the people and animals in our community by providing desexing, vaccinations, microchipping and general animal welfare services. Our dedicated team are also on hand to offer advice and to feed and care for the animals of people who are unable to do so themselves.
In terms of our staff, the situation has been extremely difficult, particularly for our volunteers. Some of them lost their homes in the fires and many have lost jobs and therefore income due to COVID-19. And although they try to help where they can, sometimes it's just no longer possible.
Due to social distancing rules, the ability for us to fundraise has also decreased, so our branches are finding it very, very hard. But of course we will continue to offer support where we can. Because the welfare of both our community and our animals are at the heart of what we do".  – Helen Powderly.
Look how your donation can help!
As a smaller charity, Animal Welfare League NSW relies heavily on generous donations to help our team continue to do their amazing work. We realise that many people are going through financial hardship, but if you can support us in any way, we would be so grateful. Your donation – whatever you can afford – will go a long way towards ensuring our dedicated team, including our inspectors, can continue to assist our community and the animals that need us through the challenges that lay ahead. Let's get through this together!

And lastly…We are working in conjunction with other legislative bodies and will be providing continual updates on the COVID-19 situation to ensure that we provide our community and our animals with the best possible care. Feel free to follow our social channels and please reach out to us if you need any help.
A Message from AWL NSW CEO, Mark Slater