COVID-19 has changed the way we live. But it won't change the way we help.
Australians have been through a lot in the past twelve months with the drought and bushfires, but with COVID-19, we are all facing challenges of a completely different kind. And it's an incredibly difficult situation – for both people and animals – and everyone has their own worries and hardships.
But in these unprecedented times, our inspectors, veterinarians, support staff, carers and volunteers continue to provide assistance when and where we can. This ranges from helping with veterinary, fostering and re-homing services, to caring for the animals in our shelters and dealing with cases of animal cruelty and neglect. We are also committed to supporting our community – whether it's offering a friendly word of advice, providing support services through our network of branches, or tailoring solutions to help you through these difficult times.
Meet AWL NSW Inspector Mahon
Our amazing team of inspectors are a key part of the services Animal Welfare League NSW offers, and they work tirelessly to assist animals, livestock and wildlife throughout the district. With the COVID-19 pandemic, they are now facing new challenges at the frontline of the crisis. Inspector Mahon has held various roles, including as an animal attendant and then inspector over her five years with AWL NSW.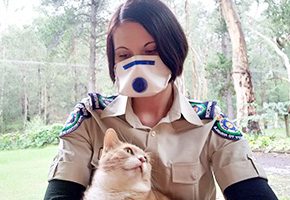 "The COVID-19 situation has been incredibly hard for many people, particularly those who live alone. For example, we have a client who lives in Blacktown who we visit on a monthly basis. He has a cat Ginny who he absolutely adores, but he is unable to apply her flea treatments due to a disability. He is currently in isolation and was worried that because of this, we wouldn't be able to visit him anymore. We assured him that we are following safe work practices and that we are here to assist him at any time, including continuing to pop in to check on him and Ginny's welfare.". – Inspector Mahon.

How can you help?

As a smaller charity, Animal Welfare League NSW relies heavily on generous donations to help our team continue to do their amazing work. We realise that many people are going through financial hardship, but if you can support us in any way, we would be so grateful. Your donation – whatever you can afford – will go a long way towards ensuring our dedicated team, including our inspectors, can continue to assist our community and the animals that need us through the challenges that lay ahead. Let's get through this together!

And lastly…We are working in conjunction with other legislative bodies and will be providing continual updates on the COVID-19 situation to ensure that we provide our community and our animals with the best possible care. Feel free to follow our social channels and please reach out to us if you need any help.
A Message from AWL NSW CEO, Mark Slater