SANTA PET PORTRAITS are on again this year!
We are thrilled to be working with Kellyville Pets, Casula Mall and Petbarn at the Crossroads Home Centre again to give you a chance to get your furry (or feathered) friends pictured with Santa!
Anyone who has had their pet's pic taken with Santa knows it is a lot of fun, and the pictures we see of people's beloved animals with Santa are simply gorgeous.
$15 from every Casula Mall Santa pet photo package and $15 from every Crossroads photo shoot will come straight back to AWL NSW to help our animals, so a *big thank you* to Casula Mall and Crossroads Homemaker Centre for their ongoing support of AWL NSW.
Join us for what has become a wonderful Christmas tradition out here in Western Sydney – getting your pet photos done with the big man himself!
Petbarn at Crossroads Centre Pet Santa Photos:
Saturday 2, 9 and 16 December
10am to 4pm
Location: Petbarn
Cost: $15
Contact 9821 1033 to book your place
Casula Mall Pet Santa Photos:
Sunday 3, 10 and 17 December
Time: 7am 9.30am
Where: Casula Mall
Ph: 9821 1033 to make a booking
Kellyville Pets
Kellyville Pets popular Santa Pet Photos are back with Santa Paws being in-store every weekend from 18th November and every day Christmas week!
And $5 from every package sold will be donated to Animal Welfare Leage NSW.
Packages start at $24.95, contact Kellyville Pets on (02) 9629 3282 to make a booking!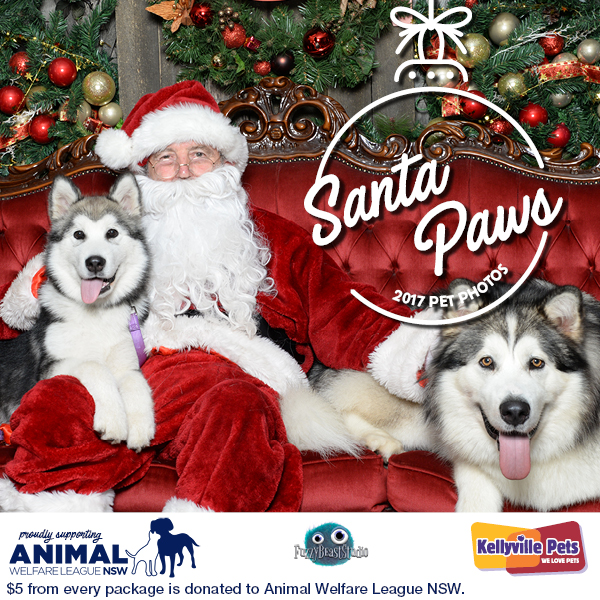 Crossroads Centre Santa Pet Photos info