Animal Welfare League NSW recognises the important role companion pets can have with helping people go through difficult times, so our staff and volunteers are showing their suppawt for Paws for Sick Kids which helps to raise funds for Ronald McDonald House Charities.
Ronald McDonald House Charities Sydney gives seriously ill children the best gift of all – their families. The House is a warm and supportive home-away-from-home for families of children travelling to Randwick for treatment at the Sydney Children's Hospital. Learn more about the work of Ronald McDonald House Charities here.
The Paws for Sick kids is a campaign asking all pets (and their hoomans) to get together, do a few challenges (easy, hard or your own) and raise funds for seriously ill children. All funds raised will support Ronald McDonald House Charities Sydney to continue their work in supporting sick kids and their families by providing a home away from home.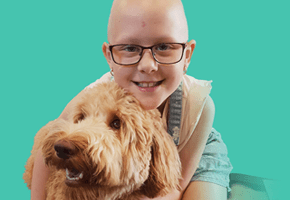 Meet Wilbur, the Chief Cheer Pooch at Ronald McDonald House Charities Sydney
Hi, I'm Wilbur the Chief Cheer Officer at Ronald McDonald House Charities Sydney. While I can be quite cheeky (this is what mummy says) at times, I ruff to give the best cuddles to all the sick kids and their families at the House, they are super PAWTASTIC! I'm asking all pets (and their lovable hoomans) to join me in this super exciting campaign! You can choose your challenge from easy to hard (mummy says I'm doing the easy one) or you can choose your own challenge. No matter which challenge you choose, I'm asking all pets to join me and help make sick kids smile!
It's easy to sign up, even my mummy can do it! – Sign up and choose your challenge to do over 7 days (I'm doing mine between 2-8 August) then ask the people you love to sponsor you (and your hooman)! There will be many FURBULOUS challenges that are easy and fun for you to take part in and there will be opportunities for you to join a few competitions where I get to be a judge! If the challenges provided isn't your thing, you can choose your own daily challenge! Join me today! And don't forget to stand up and show your paws and make our sick kids smile!
How your pet can make a sick kid smile?

As the Chief Cheer Officer I ruff to bring joy to the hooman families that visit (especially the children) as well as all of the positive physical and mental health benefits that pets as therapy can provide. When I started visiting the House we noticed changes almost immediately. In particular, I met a little 3-year-old hooman girl called Abby, who was coming to the House every 3 weeks for treatment. She used to cry when she got in the car, knowing that a trip to Sydney and meant a trip to the hospital. Since my arrival Abby jumps in the car happily and announces that she is going to see Wilbur (I ruff her). A big change for her family and both her mental and physical wellbeing. As a Sydneysider, my home is Ronald McDonald House Charities Sydney and for these little hoomans (and big hoomans), it is a home away from home.
Cuddles and kisses
Wilbur ?
Chief Cheer Officer
How is AWL NSW supporting this cause?
The staff and volunteers of AWL NSW are showing their support by encouraging everyone to get behind this amazing cause. Simply join our staff and volunteers and be part of Paws for Sick Kids. Make a donation and take part in the fun challenges with your pet!
AWL NSW is  proud to suppawt Paws for Sick Kids and Wilbur the House Dog Chief Cheer Officer.