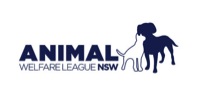 CONNECTING WITH PETS OF THE HOMELESS
7 july 2016
Sydney Homeless Connect (www.sydneyhomelessconnect.com ) provides an annual Winter event at Sydney Town Hall where the open-door policy allows people who are homeless, or at risk of becoming homeless, to connect with service and care providers to help them move forward.  AWL NSW is once again proud to be a part of this initiative, and had our vets and vet nurses on-site to provide health checks, vaccinations, blankets, food and lots of love to pets of the homeless.  Here are a few of the people and pets we met over the course of the day…..
Boomer & Bubu
Since the very first year that AWL NSW was involved with Homeless Conne ct, Boomer & Bubu has pride and place in the centre of our stand, while their owner takes a look around the event site.  Even though our vets give them the once over, they are the ones looking after us for the entire day, and we reward them with treats and treat them like royalty.  They even get a take away bag of goodies including warm coats, a bag of dog food and squeaky toys!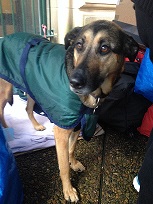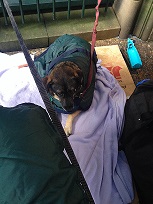 Rebel and Kevin
Pictured here with our vet nurse Lyn is 'Rebel' the 2 year old Staffi x Pit Bull, and her owner Kevin – who tells us Rebel is the most loyal and best friend he ever had!  Kevin has had Rebel since she was 5 weeks old, and would never be without her.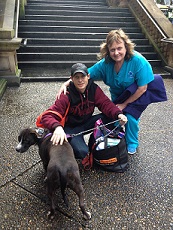 Princess
This little beauty's name is very appropriate.  10 week old border collie x Chihuahua x staffi (what a unique mix!) Princess is pictured here having he r annual check up.  Mum and Dad say that Princess is one of a few pets they have, but there's an extra special place in their heart for her.  We're not surprised – who could resist her!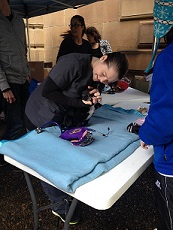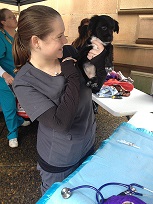 Last but certainly not least is the beast….
Introducing Sheena, another regular visitor to the AWL NSW stand, and apparently quite the celebrity – having been shown in the Sydney Morning Herald, amongst other popular publications.  Sheena's shown here getting a little lump checked out, and again with our vet nurses (and his mate called 'mate'!).
Owner Tim tells us that he went to a Staffi Rescue shelter – specifically after a Staffi obviously – and left with Sheena the Bull Mastiff x Ridgeback.  'One look at Sheena and she was mine', says Tim.  Apparently Sheena loves the water – so much so that Tim says he's sure he was given a hairy fish – quite the sense of humor Tim….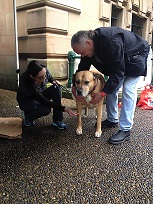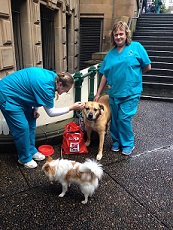 A great day had by all, see you again next year Homeless Connect!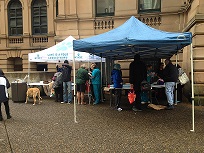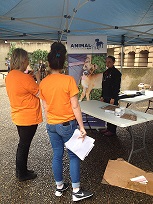 About Animal Welfare League NSW
Animal Welfare League NSW (AWL NSW) believes that all companion animals deserve a safe and loving home.
AWL NSW provides a safe environment where surrendered, neglected and abandoned animals can feel comfortable and nurtured, and we do our very best to match each pet with a suitable home.
AWL NSW operates three animal welfare shelters, a veterinary hospital, a behaviour team, a foster care network and 13 volunteer branches around NSW. We have a team of Inspectors on the ground protecting animals, providing emergency rescue and enforcing the Prevention of Cruelty to Animals Act.