Learn more about our team.
Meet the amazing and dedicated Animal Welfare League NSW Shelter Managers, Naomi and Sam, who are doing great things to help find homes for the shelter pets in our care, as well as help our organisation strive to meet our 'Getting 2 Zero' philosophy. Naomi and Sam were gracious enough to answer a few quick questions to help us understand what made them want to work for AWL NSW.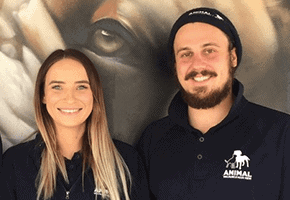 1. What inspired you to work with animals?

Naomi: Ever since a young age I have wanted to work with animals in some shape or form. It wasn't until I adopted my dog from AWL NSW in 2015 that I understood what I finally needed to do which was to play a part in saving, rehoming and rehabilitating animals who need a second chance at life.
Sam: I have always loved animals from as young as I can remember. I have grown up with dogs and cats and they have always given so much love that it inspired me to help those animals in need whether that be domestic or wildlife, and show them that not all humans are bad.
2. What makes your job worthwhile?

Naomi: The best and most worthwhile thing about my job is seeing the outcome of when animals get adopted. We often have animals who sit at the shelter for a really long time and there is no better feeling than seeing the animals who you put a lot of work into training and looking after on a daily basis find a loving home.
Sam: What makes my job worthwhile is when an animal comes into our care who is shut down, been abused, neglected, deprived of love and terrified and you work with those animals and they come out of their shell and start trusting you and their personalities start coming out and you become bonded with that animal. You witness the progress they make from the first day until they get adopted and as much as it hurts seeing them in a bad way at the start it's worth it when they are comfortable and get adopted and trust humans again.
3. Is there any animal you have fallen in love with during your time at AWL NSW?

Naomi: It's hard to pick one animal in particular although I must say, a part of me falls in love with every animal that comes through our doors.
Sam: I have fallen in love with every animal from a little puppy to a big horse. Every single animal has their own little personalities and they are all so innocent and just want to be loved. Although there are a few animals who have come through and been a little more special. There is one boy named Deckard who I fell in love with and wish I had the place to have adopted him.