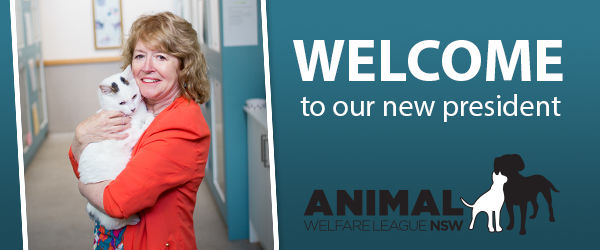 Animal Welfare League NSW would like to welcome Christine Richardson as the new President of the AWL NSW board.
Our previous President, Alan Colling, has unfortunately decided to stand down because of personal reasons. Alan was a great mentor and passionate about animal welfare and our organisation in general. His contribution to the Board won't be forgotten and we look forward to seeing him continue to serve as a Director. Thank you, Alan for your dedication to our organisation and philosophies.
We look forward to working proactively with Christine to continue Alan's excellent work. Christine has diverse experience in management, animal welfare and political advocacy for animal causes. She has been a volunteer with AWL NSW for over five years and is an active member of the Hawkesbury Valley Branch.
In her local area she successfully assisted with the Cat Pilot Program to reduce the number of cats and kittens euthanased at Hawkesbury Animal Shelter. Christine is extremely passionate about desexing programs and reducing euthanasia of healthy companion animals. She believes strongly that educating the public about responsible pet ownership issues is a key factor in achieving higher standards for companion animal welfare.
We are excited to be working with Christine to continue AWL NSW's great work and wish Alan all the best with his future endeavours.